So often I hear "I don't have time for myself." These clients end up spending hours, days and years cleaning up the mess they could have prevented had they taken the time to "do the work."
Your intuition can guide you!Click To Tweet
My process since being a young woman has been to read and journal about what I read as a way of becoming conscious. Often I have taught classes from some of the books such as Anatomy of the Spirit by Caroline Myss and Women Who Run with the Wolves by Clarissa Pinkola Estes.
Confused about a decision? I can help!
Click To Tweet
Part of the motivation for writing my book Living Intuitively: Journal the Wisdom of your Soul came from my personal growth experiences. Using the chakra system as the structure for gaining information and using Soul Stems (writing prompts) you are able to access your intuition and begin to trust yourself to make the best decisions.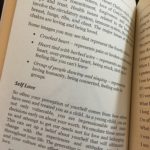 An excerpt from Living Intuitively: Journal the Wisdom of your Soul
Chakra Four – The Heart Chakra
Self Love
So often your perception of yourSelf comes from how others have seen and treated you as a child. As young children you are not only vulnerable, you are impressionable and make decisions early on about your worth. You emulate those around us and attempt to get your needs met for love and belonging. This can set up a belief about yourSelf that will ultimately change with experiences and attitudes you have throughout your life. The generation in which you were raised and your culture also affects your view of yourSelf and self-love.
 What I believe about myself is . . .
 The biggest trauma I experienced was . . .
 If I forgive (name) I am afraid . . .
 I long to open my heart, but . . .
 I still need to heal the memory of . . .
 I use my past to sabotage myself by . . .
 What I value about myself is . . .
Enjoy!

Testimonial

Candess Campbell has written a book that anyone can use to develop their intuition and their health. So often our early childhood programming has sublimated our intuition, and with it our health. Live Intuitively suggests "soul stems" for us to use to journal. Observations on the chakras, and their impact on your physical, chemical and emotional health can be added to your soul stem to create a personalized tool. Her journaling process will take you back through layers of consciousness to get in touch with your original mind, your intuition.
Live Intuitively is a guidebook. It is clear and simple. Best of all, once you reach your destination with a soul stem, there is another stem waiting for you. The book could last a lifetime, because our journey back to our intuitive self always lasts a lifetime. Recommended for seekers everywhere.
~ Patrick Dougherty, Holistic Chiropractor