I am surprised by all the response to the medium John Edwards coming to Spokane. I saw him on TV once and thought – "I can do that!"
When working with clients in my office, often one of their loved ones who passed over would show up. I would ask my client if they wanted me to address their loved one and they always said yes. One day I decided to test my ability in public.
Connecting with your loved one on the other side can be incredibly healing. Click To Tweet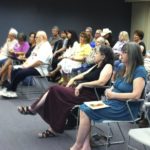 I created an event at a local library and didn't charge since I was testing myself. I have done public events as a psychic for years, but not as a medium. Over 100 people showed up and there was standing room only. I let everyone know I was practicing. I asked the audience who had someone they would like me to reach.
There was a woman on the right about three rows back I felt drawn to. I saw anguish in her face. At the same time there was a young male voice I heard within, telling me it was wrong. He was trying to get my attention. I asked her who died and she said her son. His voice got louder and I knew the information she was told was wrong. I asked her "how did they say he died?" She said suicide. As soon as she said this her son's voice got louder and more clear. He explained to me what happened and it was not suicide at all. I shared with this woman what he told me and peace came over her and her face softened.
At that moment, I became aware that as a counselor it would have taken maybe two years for her to get the relief I witnessed her getting in about two minutes.
With a psychic medium reading she healed what would have taken years in therapy. Click To Tweet
It has been difficult coming out as a psychic and a medium in my conservative community, but what I witness when I work with clients is amazing. At the last private psychic party I facilitated, several of the women wanted to talk to their mothers who had passed over. I am thinking of making this a theme party in the future and especially around Mother's Day.
Contact me for a private psychic medium reading.