Getting ready for the Ghost Reading Event at the Corbin Mansion. I always enjoy these events and they are always full. We have break out sessions where I share with  the group about the local ghosts. As a psychic medium I  also connect them with their loved ones that have crossed over!
I enjoy sitting in the window box with there with Anna Louise. She waits for Corbin to return. She enjoys when we have events that focus on her because she is lonely.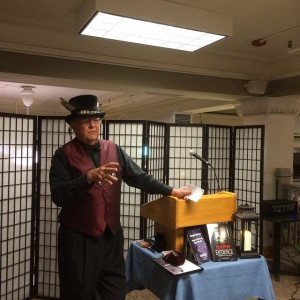 Chet Caskey and I have a book coming out in October entitled Spooky Spokane so this will be a fun night to share some of the highlights!
Chet Caskey is a retired attorney, local author and spiritual teacher. He leads a walking ghost tour through downtown Spokane.  He is the author of Haunted Spokane: Ghosts & Dark Places in the Lilac City and Spokane's Historic Cemeteries.
Here is a video where Chet and I met with Stephanie Vigil of KHQ news.
Haunted Spokane: Stephanie Vigil takes a look at some of the most haunted places in Spokane