This last week I facilitated a workshop on my new book Live Intuitively: Journal the Wisdom of your Soul. In this book I use Soul Stems.  A Soul Stem is a writing prompt that takes you deeper within yourself where you will be able to access your own Soul information! In my new book, you will also be guided to intuitively read your chakras and journal with the symbols you receive.
Here are some Soul Stems you can begin with.
(Have a notebook that is not expensive, one where you can be messy and find a fast writing pen.)
Set a timer for 20 minutes or commit to 4  full pages of a notebook size paper.
Start with a Soul Stem such as
What frustrates me the most is . . .
What I really want in my life is . . .
I would be happy if . . .
Continue writing for 10 to 20 minutes. Don't worry about punctuation or spelling, just keep your pen moving. If you get stuck, just write "I am stuck or I' don't know what to write" over and over until something else comes up.
You will probably start with something that is on the surface, then move into resistance (I don't want to do this, my hand hurts, this is boring) and then eventually you move into what is really going on deep within you.
If may take 3 or 4 sessions to get to this point, but don't give up.
This is a commitment to connecting with your SELF!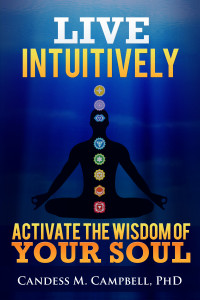 Once you get my book, be sure to connect with others in the Facebook Group
Live Intuitively© Souls
and be sure to Like my FB page!