Collaboration has been my word for 2015 and I have been practicing creating projects with others. I find that my style of communication is direct and my perfectionism is showing up. I am highly detailed oriented and highly present (partially my training as a counselor) and this year I am realizing that where others see a pine tree, I see each needle and pine cone.
My Soul Group is reading The Diamond Cutter: The Buddha on Managing your Business and your Life. In Chapter 7 the authors give 47 business problems and their solutions. The solutions are always an "imprint" that the business owner has that creates this problem. This belief is in alignment with what I hold to be true. What is happening in our lives is a reflection of ourselves.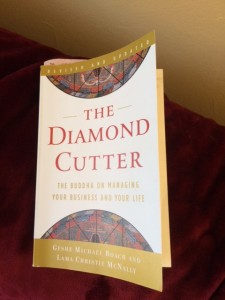 One of the shorter examples from the book I can share (its more extensive in the book) is "Business problem #34. People around you are unreliable. You give them a job, and you're never quite sure if they're going to come through for you. The Solution here is . . . "the main actions you can take to assure yourself the perception (and therefore the reality) of reliability in the staff around you is for you to be constant and dependable in a very specific context: in your marriage or similar family commitments. It's not fashionable nowadays to talk much about this kind of reliability, but according to the law of the potential in things and the imprints of our actions, this is one of the most important steps we can take in assuring stability in our personal and business lives."
This book is really helping me practice what I believe. There is so much blaming of others, but the greatest changes come from making changes in myself.
What changes do you need to make in your own life to attract what you desire?
The Diamond Cutter: The Buddha on Managing your Business and your Life